IQteh, awarded in the BlackBerry Summit in Alicante, Spain
Qualteh is delighted to have been recognized by Research in Motion (RIM) in the BlackBerry EMEA Innovation Awards last night, winning the "Accelerating Innovation for Entrepreneurs: Starting and Growing a small business" award. This recognition is designed to reward applications which have enabled small and medium sized business to accelerate growth, through either sales growth or customer acquisition taking their business to the next level."The Accelerating Innovation for Entrepreneurs: Starting and Growing a Small Business category recognizes attributes including business impact, speed and simplicity, replicability and potential to become a "SuperApp", says Rory O'Neill, VP EMEA Marketing, RIM. "It can leverage the BlackBerry platform to interact with other apps and deliver a new layer of value to end users", adds the RIM representative.
Qualteh demonstrated flair in all winning criteria with IQteh (IQsfa, IQcrm, IQscan) and won the category with flying colors.
"The IQteh platform is all about performance, the IQsfa, IQcrm, IQscan and IQhr applications increasing sales revenue, the decision-making and management process of business meetings and the optimization of the employee activity", says Moise Jurca, CEO of Qualteh. "For us this award is like a Quality Certification and a recognition of years of experience in developing mobile solutions", Jurca adds.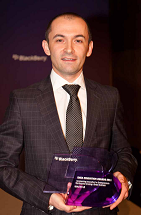 The BlackBerry EMEA Innovation Awards are designed to celebrate partner achievements in delivering that innovation to end users, and to recognize partners who have highlighted the differentiating qualities of the BlackBerry platform by creating something truly exceptional. the awards recognize a diverse range of innovations for BlackBerry customers, in all areas of their life, whether it si work or personal.
The awards were announced at the BlackBerry Alliance Summit, an annual event that brings together BlackBerry with its Alliance Program partners.